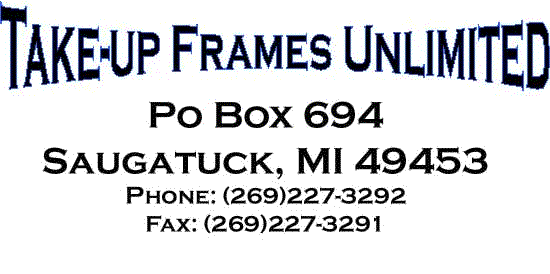 Please click above to get to type A or B inventory list.

Attention Buyers:
Take-Up Frames Unlimited™ has been a major supplier of take-up frames since the mid 80's.

We believe you will find our take-up frames to be the best on the market, thanks to:

Welded steel construction

Acme threaded rod for long life and precision movement

Individually tested and inspected

Made in the USA

Take-Up Frames Unlimited™ keeps sufficient inventory to ensure a two-week delivery or less on our standard frames.
We offer a full line of standard frames for pillow block and take-up bearings, as well as custom built frames. Custom frames are available in 6" to 24" travel increments of 3".
This website is provided as an aid toward your take-up frame selection. It features a handy cross reference containing a list of competitive equivalents, as well as dimensional information for each of our take-up frames. You can request additional information through our web site or by phone at (269) 227-3292
We hope you will find this website useful in determining the best take-up frame for your application.
For more information please visit our parent site,